Visit the Park
Features & Attractions
The park offers numerous benches, tables and sculptures to enjoy—most of them donated (see a list of donated features).
The Pavilion
The pavilion is a 9,000+ sq. ft. covered event space in the heart of Durham Central Park.  It is home to the world-class Durham Farmers' Market and features smooth, concrete floors, men's and women's restrooms, available power and an ATM that can be stocked upon request.
Rent the Pavilion for your Event
The Lawn
The Lawn is the open green space along Foster street and cradled by the Pavilion.
Sister Cities Grove
Located adjacent to the Pavilion, the Sister Cities Grove features trees dedicated to, what else but, Durham's sister cities including a Linden Tree for Durham England, an English Oak for Arusha, Tanzania, a Red Maple for Kostroma, Russia and a Higan Cherry Tree for Toyama, Japan. Aside from shaded, it also offers a climbing sculpture for kids and a good of amount of unique seating including local art benches and other made from fallen trees. A favorite place to relax during events.
The Leaf
Designed and built by a class of NCSU Masters of Architecture students, the Leaf offers a shaded, open air performance area facing the Great Lawn. It's also a great place to grab a shady seat and enjoy the sculptural beauty and integrated greenery.
Rent the Leaf for your Event
Read the story of The Leaf
The Great Lawn
The Great Lawn is a sprawling, open green space that climbs the hill between The Leaf and The Skate Park. It's a great place to catch some rays or a even a film. Check out events to see what's coming up.
The Skate Park
Designed by Artisan Skateparks, this 10,000 sq. ft. custom concrete skatepark features a floating quarter pipe, launch boxes, step-up bank, three stairwells with handrails, a street clam, and an eight-foot trog bowl. Helmets and pads required.
SEEDS' Garden of Eatin'
Located at the corner of Hunt Street and Foster Street, the Garden of Eatin' is a free-pick, public edible garden by SEEDS and its collaborators. The focus is on organic edibles—fruit trees and shrubs, herbs, medicinals and veggies. On any given day during the warmer months, you can harvest some rosemary, basil or thyme. Other favorites include persimmon and hazelnut. Stop by and pick a little fresh herb or just explore the wonderful fragrances.
Read the story of The Garden of Eatin'
Prudential Garden
One of three gardens located in the wooded area behind the Pavilion, the Prudential Garden serves as a beautiful gateway to Durham Central Park's Southwest corner. It features art by various local artists including some sculptural benches and an interesting mix of native and exotic flora.
Grace Garden
One of three gardens located in the wooded area behind the Pavilion, the Grace Garden offers a secluded and shady bit of Zen-like quiet beauty. Featuring local art, bench seating and a menagerie of beautiful plant-life, it is dedicated to our friend, Grace Richardson who died in a tragic drunk-driving accident.
Butterfly Garden
One of three gardens located in the wooded area behind the Pavilion.
Parking
Street parking is available along Foster Street, Hunt Street, Rigsbee Street, Roney Street and Corporation. The Durham Centre Deck at 300 Morgan Street is two blocks away.
Restrooms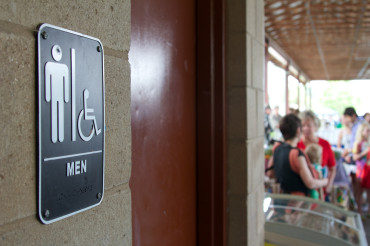 Mens and Womens restrooms are located in the back corner of the Pavilion and are only open during events.