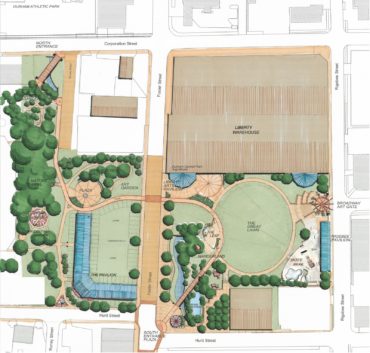 During the past few weeks, we've been seeking community input about the Park – how people use the Park, what they like, what needs improvement, etc – through our Community Input Survey in ENGLISH and SPANISH,  and community input meetings. Hundreds of people have shared their thoughts and we are so grateful!
Now it's time for the Master Plan Design Charrette. A design charrette is where designers and community members get together and, using the community input from the survey results, draw and dream of what the Park will look like in the future. From there, a revised Master Plan will be created and the DCP board uses it as a guide for future updates and improvements. The Pavilion that houses the Durham Farmers' Market and Mt. Merrill are both the direct results of community input to guide creation and revision of the Master Plan.
The Master Plan Design Charrette will be held on Saturday October 8th, 9 am-Noon at Measurement Incorporated, 423 Morris Street.
Also, 
you have probably noticed that the park's big hillside and the skate park is currently closed. We are currently installing a Loop Sidewalk between the Leaf and the Skate Park, an element that has been on the Park's Master Plan for a long time. Plus, much needed repairs are being done at the skate park. Right now, the whole hillside is torn up, but in a matter of weeks, an ADA-accessible loop shaped sidewalk will be installed around the great lawn. The lawn will be re-graded back into a hillside that won't be nearly as muddy and difficult to traverse as it is now.
Please join us for the Charrette and help us shape the future of the Park!
NOTE: We are watching the weather closely. If Hurricane Matthew starts heading our way, we may postpone. CHECK OUR WEBSITE FOR DETAILS!