Over the past few weeks, we've been seeking your input about the Park – how you use the Park, what you like, what needs improvement, etc – through our Community Input Survey in ENGLISH and SPANISH. Hundreds of people have shared their thoughts and we are so grateful!
Our next step in the information gathering process is to hold Community Input Sessions. We will be holding two over the next couple of weeks.
Thursday September 22nd, 6-8pm
The Trotter Building
410 W. Geer Street
Thursday September 29th, 6-8pm
Durham Parks and Rec
400 Cleveland Street
Spanish Interpretation Available
At these community input sessions, we'll have brief presentation about the history of the Park starting at 6:15 each evening. After that, participants can circulate around to different tables staffed by DCP staff and board members to tell us what you'd like to see in terms of physical improvements, park programming, the Park's mission, and more. These are drop in events. All are welcome to join!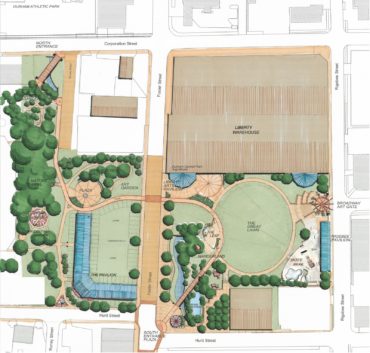 Why are we seeking your input about the park right now? Well, every few years, Durham Central Park takes the time to listen to the community about how they use the Park, what they would like to see at the Park, what is working, what's not working, etc. Then, with the input from the community, we hold a design charrette to update the park's Master Plan. A design charrette is where designers and community members get together to draw and dream of what the Park will look like in the future. From there, a revised Master Plan is created and the DCP board uses it as a guide for future updates and improvements. The Pavilion that houses the Durham Farmers' Market and Mt. Merrill are both the direct results of community input to guide creation and revision of the Master Plan.
The Master Plan Design Charrette will be held on Saturday October 8th, 9-Noon at Measurement Incorporated, 423 Morris Street.
In fact, we are currently installing an element that has been on the Park's Master Plan for a long time. The Loop Sidewalk is being installed on the east side of the Park between the Leaf and the Skate Park. Right now, the whole hillside is torn up, but in a matter of weeks, an ADA-accesbile loop shaped sidewalk will be installed around the great lawn. The lawn will be re-graded back into a hillside that won't be nearly as muddy and difficult to traverse as it is now.
Please join us and help shape the future of Durham Central Park!