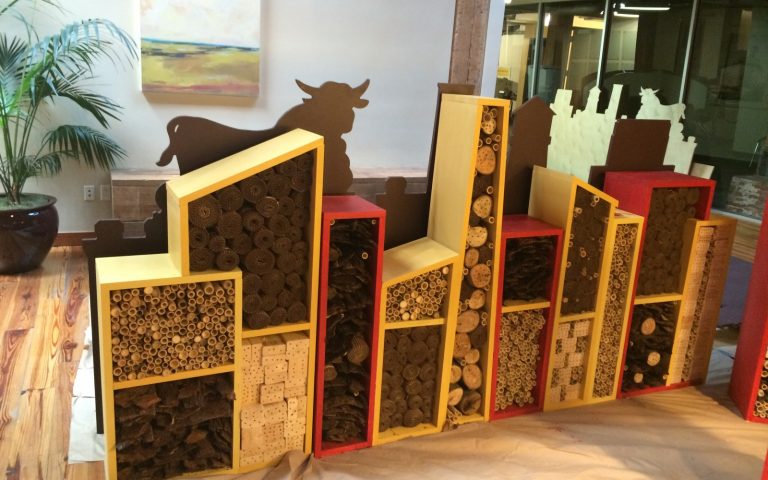 Coming Soon to Durham Central Park… Air Bee-n-Bee!
Air Bee-n-Bee is a bee hotel, which is a sustainable nesting place for solitary bees. Solitary bees, like honey bees, are important pollinators. Healthy pollinator populations are an important part of all ecosystems – agricultural, urban, and natural.  Air Bee-n-Bee will be installed on the east side of the Park in late spring. Once Air Bee-n-Bee bee hotel is installed, DCP will hold a grand opening celebration. Stay tuned!  
Air Bee-n-Bee (pictured on the right) was made as a collaboration between Durham-based, Burt's Bees and Bee Downtown, a local company that is focused the goal of building healthy and sustainable bee/pollinator communities. It was constructed by Burt's Bees employees and designed by Gabe Eng-Goetz, the owner of Durham based Runaway Clothing Company. The structure includes the skyline of downtown Durham and lots of space for bees to live and nest in the park.
Support Healthy Pollinator Populations
As we prepare for the installation of Air Bee-n-Bee, we'll be adding pollinator attracting plants to the Park. You can help too! To welcome and support a healthy bee population, you can plant flowering plants and trees in your yard or on your balcony. Here are a few types of plants that attract and support pollinators:
        

Spring bloomers: Bee Balm, Cat mint, Stokes Aster, Baptisia, Echinacea, Spiderwort, Lavender

        

Summer bloomers: Milkweed (Asclepius), Oregano, Passionflower, Black Eyed Susan, Anise Hyssop, Mountain Mint, Purple Cone Flower (Echinacea)

        

Fall bloomers: Joe Pye Weed, Ironweed, Asters, Goldenrod, Horsemint
More info about Solitary Bees and Bee Hotels
What is a Bee Hotel?
A Bee Hotel is a sustainable nesting place that provides shelter for solitary bees to rest and lay their eggs. Bee Hotels come in many shapes and sizes and can be made from materials such as sections of old logs, untreated wood, or bamboo. Depending on the types of materials that are used, generally the entrances for the bees will range from 2-8cm and are spaced a few centimeters apart. These holes can be quite lengthy in order to prevent predators from reaching the bees. A warm, sheltered location is ideal for a bee hotel, for example a south facing area.
Who Lives There?
Solitary Bees. There are over 2000 species of solitary bees that live in the United States. In fact, most bees are solitary. These particular bees live their entire lives on their own and are responsible for all the foraging, nest building and egg laying.  They are our natural, indigenous pollinators. As the name indicates, they live solitary lives, not in hives as the honeybee.
Are Solitary Bees Aggressive?
No. Because they don't live in community, they also don't defend their home as social bees do and are, therefore, very docile and non-aggressive to humans.