A Profile of Durham Central Park
By Thomas Mande, Duke '23
It's a Saturday morning, and Durham Central Park is alive with activity. Foster Street—the street that runs through the center of the park—is lined end to end with
tents; one sells a range of ostrich products—from meat, to wallets, to feathers. The next sells organic tomatoes, and the one beyond that sells authentic Senegalese cuisine. Music floats through the air—a guitarist at one corner plays soft indie music, and a small band plays jazz
further down the road. A man in a full-body fox costume sits under a tent, offering to write visitors custom poems.
Attendees mill about the area, happy and unrushed. Young couples push strollers and walk their dogs. "Y'all wanna try some sweet potatoes?" a friendly, tall man in overalls and a big smile calls out.
The bustling scene is typical for the weekly Durham Farmers Market these days. Even on non-market days, Durham Central Park—a 5-acre park in downtown Durham—is often filled with life. The Park hosts a wide range of events, from story time for preschoolers to movie nights under the stars. Local community groups often rent the space and put on their own events.
A few decades ago, all this would've been hard to imagine. "I actually have photographs on a bulletin board when someone walked down the street," said Ellen Cassily, a park board member. "I was like 'oh look, there's someone walking down the street,' and I took a picture of them"
I met Ellen in the park that next Friday. It was a sunny, warm day, but the air had a distinct fall briskness to it. Ellen has been involved with the park from the beginning. She is a kind, middle-aged lady; she wore a brimmed hat, a beige puffer vest, purple rimmed glasses, and a purple patterned scarf.
Ellen first found out about the park when she was looking to buy a building down the street for her architecture practice in the late 1990s. After ensuring that the park founders weren't planning to tear her building down—her immediate first fear—Ellen, who had studied landscape architecture in school, quickly got involved.
The original idea for the park came from two friends, Curt Eshelman and Allen Wilcox, in 1994. They hoped to revitalize the once thriving tobacco warehouse district, which had faced a slow decline after the cigarette industry faded out and was set to suffer further when Durham Bulls moved over to their new stadium in 1995.
A community park was at the core of their vision; it would feature art, picnics, concerts, and other events to bring community members together and bring new life to the area.
With help from their friend Bill Kalkhof at Downtown Durham, Inc. and other community members, the pair created a vision for the park. They worked with the City of Durham to buy the land, which at the time was several empty lots, overgrown with weeds.Today, the park is far from the empty space it once was. One side of Foster Street features a red-and-turquoise playground, which, as Ellen and I walked by, was swarmed by a gleeful group of middle schoolers whose classes had just ended. Around the same area is The Leaf—a modern-looking, circular wooden bench surrounded by upwards-shooting wooden
panels. Further up the hill is a skate park, and off to the left is a giant participatory art exhibit, where park-goers can use colorful plastic pegs to draw out images and pictures on a wall. A bridge crosses the creek, in place of what had once been an auto transmission store.
"The first part was land acquisition," Ellen said. "We got land control. Then we were
dreaming and building and dreaming and building, and then it sort of tied off, and then dream
and build a little more."
On the other side of Foster Street, the park features several gardens, including one edible garden, as well as the park's most notable feature: the giant red and green L-shaped pavilion, which was designed by Ellen and installed in 2007. The pavilion was a crucial addition, because it provided space for the farmer's market, which had previously been held in a nearby parking lot. Suddenly a thousand people were coming each week for the market. "The first time the street was closed off, and there were all these people here, I just walked down the street in tears," Ellen said.
As Ellen and I walked around, it was starting to fill up. That afternoon, the Park was hosting the Bull City Block Party Vintage Market. This was a younger, more racially diverse, and visibly hipper crowd—it was clear many of the attendees were not shopping vintage for the first time. Vendors stood next to racks of graphic T-shirts and hoodies, which were priced from $5 to over $200.
The music—booming rap songs—punctuated by a frequent "Let's go!" from the DJ, was a far cry from the calm Jazz and Indie music of the past Saturday. The park's board strives to provide a diversity of events that reflect the diversity of the city in which it lies. Durham, though, is rapidly changing, presenting new opportunities and challenges.
Just as Ellen commented on the changes that have occurred within the park, she pointed out dramatic changes in the buildings surrounding it. Five years ago, the four closest buildings had been a mixture of businesses and warehouses. Now, two are luxury condos, and the other two are luxury apartments. "So those are going to be older, more well-off people," Ellen joked as she showed me around, "and these are going to be younger, more well-off people."
The changes happening around the park reflect greater shifts in the community. The park's executive director, Erin Kauffman, told me that when she started working at the Farmer's Market in 2006, there were only a handful of restaurants downtown and lots of empty storefronts. Many houses and neighborhoods were in disrepair. The city was largely Black and low-income.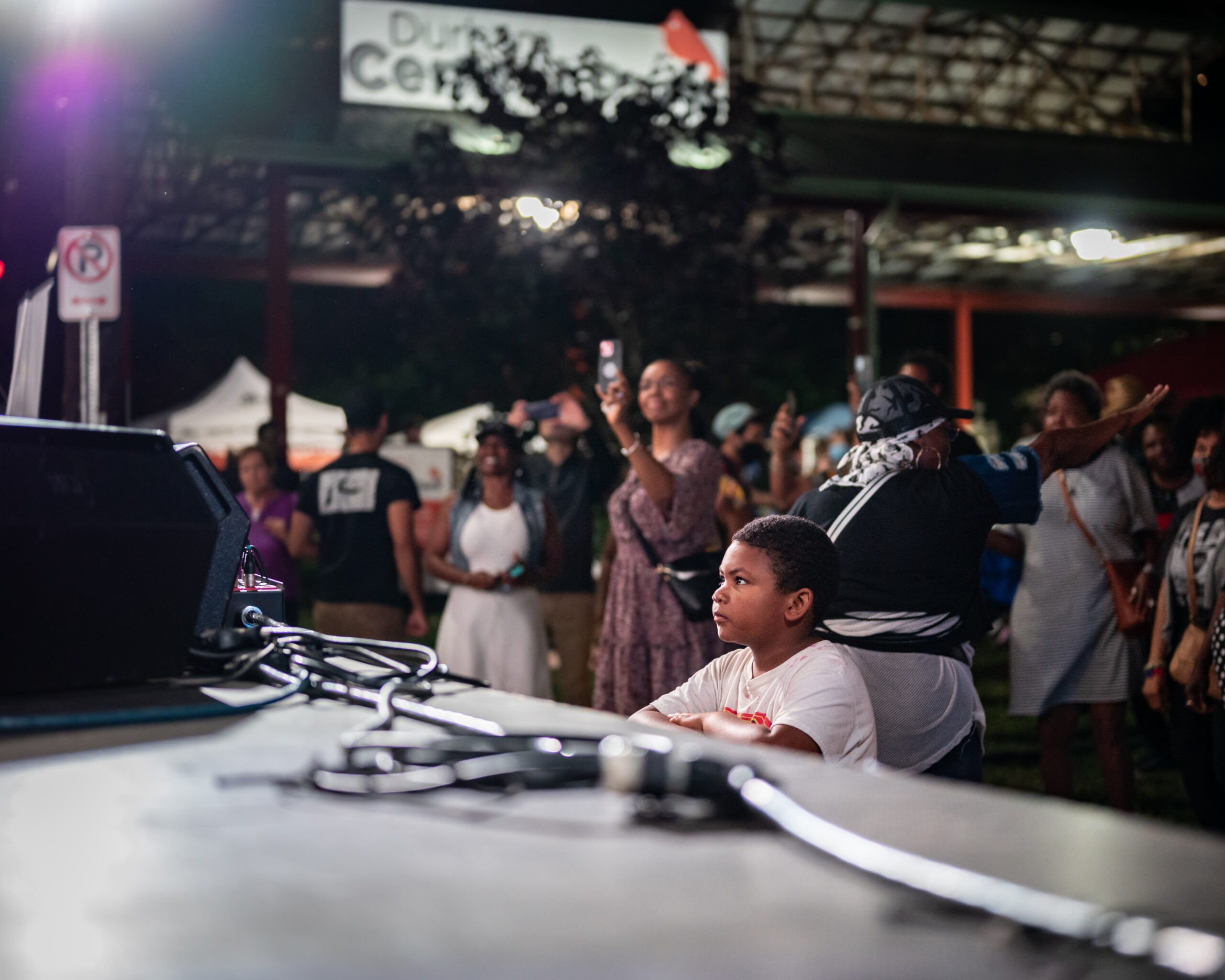 In the time since, she's seen downtown fill up with all kinds of restaurants. Companies have installed offices around the park. And the town has seen an influx of very wealthy white people. For the park's board, these changes pose a challenge. The park was created to help revitalize Durham, and has been extremely successful in doing that. Now, however, the board and everyone involved with the park must grapple with both the positives and negatives that have come out of the change. For Erin, this means first and foremost ensuring that the space
stays accessible to all members of the Durham community.
"Our mission was to make sure that Durham Central Park—no matter what was
happening around the park, no matter what was happening in downtown Durham—Durham
central park is a place for everybody," Erin said. "Whether you're Black or white or rich or poor
or young or old. There's always something that will make you feel welcome in Durham Central
Park."
Free events are a major part of the park's strategy for keeping the space accessible. This summer, it hosted a concert series in partnership with WNCU, North Carolina Central's NPR station. It hosts a four-times-a-year Food Truck Rodeo, a kids Fourth of July Parade, and more. Community groups are also able to rent the space for extremely cheap. The park hosts Black August every year, along with Durham Refugee Day, and the LGBTQ Center's annual pride event. Many community members also use the park for impromptu gatherings, like vigils, protests, and other gatherings. "It's like this community square in many ways," Erin said. "It's wild."
The park's board members also remain resolute in not allowing wealthy new residents to dampen the vibrancy of the local community. Ellen told me that one of the residents of the new buildings complained about the noise that the Batala Durham Band was making during a weekly rehearsal. Her neighbors were not sympathetic, nor was Ellen. "Everyone was like, why did you move here, if you didn't want to be with all of the excitement going on?"
After talking with Ellen, I walked over to the vintage block party. The event had only picked up; the pavilion was now filled end to end with people browsing through racks of graphic t-shirts, jackets, shoes, hats, and more. Rap music still blared from the speaker, and the DJ let loose a frequent "Let's go let's go!" Aarik Graham was one of the vendors there. Aarik started digging for clothes about 10 years ago, but only started selling recently. He hunts through trash cans, dumpsters, thrift bins, and garage sales to find the best items. He mostly does it for fun, he said, but appreciates the environmental impact too. "I feel like if we can keep the old stuff alive, let's do it," he told me. "Like recycle, recycle, recycle. I'll take this off and let you wear it after me."
Though Aarik had never been to the park before, he liked the vibe, especially the access to open space and fresh air. "It's more like a hang out, rather than a business, and that's what I like about it," he said. "The park makes it fun." Jessica On, currently a junior at Duke, had visited the parks many times before. She
became a regular visitor to the farmers market during her freshman year. It became a bright spot for her during the pandemic—a place to go Saturday mornings, and an outdoor space where she could run into people, make plans, and build community. During her time in the park, Jessica also got to know some of the vendors, including a woman named Karen Casey. Casey makes fused glass earrings, and Jessica loves jewelry, so the two became close. "Every week I would  come back, and she would be like 'Oh, I made these earnings that reminded me of you, I know you like these big earrings so I made these,'" Jessica said. "Every week I go back and look for her…I always get excited to see her."
For each park vendor or visitor, the space means something different.
For Gaby Oluf, the woman who ran the ostrich meat stand at the Farmer's Market, the park has been an opportunity to expand her business. She and her husband started their ostrich farm when they moved to North Carolina from California a few years ago. They had never farmed before, and having access to the Farmers Market was a huge step forward. For Cecelia Murray, who sells linoleum block prints on textiles at the Durham Craft Market, the park is a source of friendship and community. Over years coming to the market, she has gotten close with lots of the customers, who frequently show up to check out her new prints. When Ellen and Erin talk about the future of the park, they talk about continuing to build on the progress they've made, in a reflective, intentional way. But there are new obstacles to navigate. Parking is now expensive, making access to downtown Durham much harder for many community members. The park has struggled with homeless people taking up residence under the bridge—they work to help connect those people with social services, but the process can be a challenge. And it is also not always easy playing host to so many dogs. ("Poop is an issue," Ellen said.)
The park has also begun to experience the wear and tear of all of the activity that happens there. As Ellen put it, "The park is getting what's called loved to death." In the coming years, reinforcement and maintenance will be a priority. Ellen said they are interested in raising a portion of Foster Street into an elevated, slightly bumpy pedestrian walkway, to make it clear to cars that they are entering a pedestrian zone. In addition, they hope to add Wifi. Erin emphasized her commitment to continuing to provide free events for community members and building relationships with local non-profits to ensure the park stays a home for everyone. Hannah DeNuzzi works at the Glass Jug Beer Lab, which is adjacent to the park. She's in a drum group that practices every Wednesday under the pavilion, and she and her partner attend the Farmer's Market every week as a Saturday ritual. For Hannah, Durham Central Park provides something that few other spaces still do.
"I think common spaces are really important," she said. "Those places are disappearing. The public libraries and the parks and the various places you can hang out and not pay any money to be there, those spaces are really important and they're really important for fostering community. So, the fact that this space exists and that events can happen here, it builds and builds and builds and builds, and the end result is joy and good things."
"Even if it's just a patch of grass, it's so important to have it here."