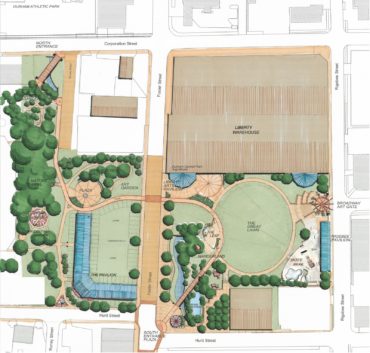 On Monday, September 12th, a big change is coming to Durham Central Park. We are pleased to announce that an ADA accessible loop shaped sidewalk will be installed on the east side of the Park. The sidewalk will provide an safe and easily traversable connection between Rigsbee Ave and Foster St. for the community (see image). No longer will people have to tromp up or down a sometimes muddy hillside to get from one side of the park to the other. This sidewalk has been in DCP's Master Plan for many years and it is exciting to see it finally being built!
We are also pleased to share that while we are adding this new sidewalk, the open space of the Great Lawn will be preserved and also slightly regraded to help with existing drainage problems. After the construction is completed, this winter, there will be new shade trees installed around the sidewalk. Tree locations TBA. Stay tuned.
During the construction, the Great Lawn area will be closed to the public. Construction should last 6-8 weeks. Park visitors will have full access to the Leaf, Mt. Merrill, the bridge and the whole west side of the Park. In the first two weeks of construction, the Skate Park will also be closed for some much needed repairs. After those repairs are finished, the skatepark will reopen and be fully accessible while the sidewalk is installed.
This sidewalk installation will be funded in large part by East West Partners, the company that is building Liberty Warehouse Apartments. Over the years that East West Partners has been working on the apartments, they have been great friends to Durham Central Park. In addition to installing the sidewalk that has been on the Master Plan for years, they made a sizable donation to build Mt. Merrill and in the near future will be making a donation towards art in the Park.