Do you remember the summer of 2002? Hint: Nelly's "Hot In Herre" was the #1 song, a gallon of gas cost $1.38 and a lot of today's top TikTok stars were born.
For three weeks in July 2002, Carrboro artist Michael Brown and assistant Scott Nurkin painted the Durham Central Park magnolia mural on the side of Liberty Warehouse at the park, which was in its very early stages. This was before the bridge over South Ellerbee Creek or Mr. Pickles the turtle sculpture existed.
This example of long-standing public art in Durham is seen by thousands of Park visitors and Foster Street drivers every year. The red oval alone is 36'x25'. The design, inspired by vintage advertising murals, graced DCP letterhead and merch (such as frisbees and t-shirts) for years. (Brown also painted the advertising murals at the Streets of Southpoint.) The cost of the mural was $7000. It was funded by the Facade Improvement Grant Program and Robert Wood Johnson Foundation. Thank you to Virginia Bridges for her original Herald-Sun feature, documenting the project.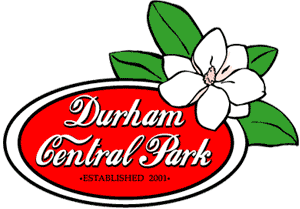 Today, the wall of what was Liberty Warehouse is now the south wall of Liberty Warehouse Apartments, below. (Photo credit Ryan Moeller Photography). Here are Best of the Bull and Mural Durham's maps of other murals throughout Durham, including Scott Nurkin's wheat stalks above the entrance to 9th Street Bakery.