Mount Merrill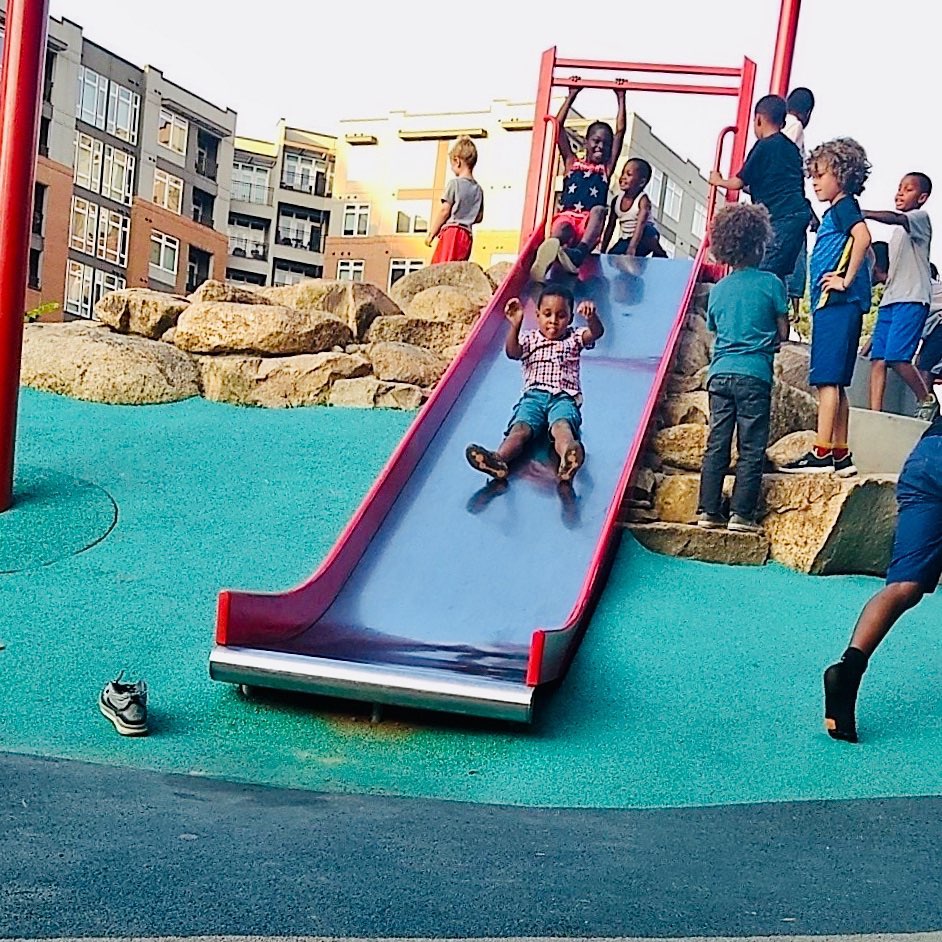 Mount Merrill is an interactive children's play area on the eastern side of the park, adjacent to the Leaf. It is a handicap accessible climbing mound that offers:
2 Slides—the Little Slide and the Big Slide
Climbing Net
Big Curving Benches
Amphitheater Seating
The Ramp Up
A "Look-out!" Area
Boulder Climb
Why the Name?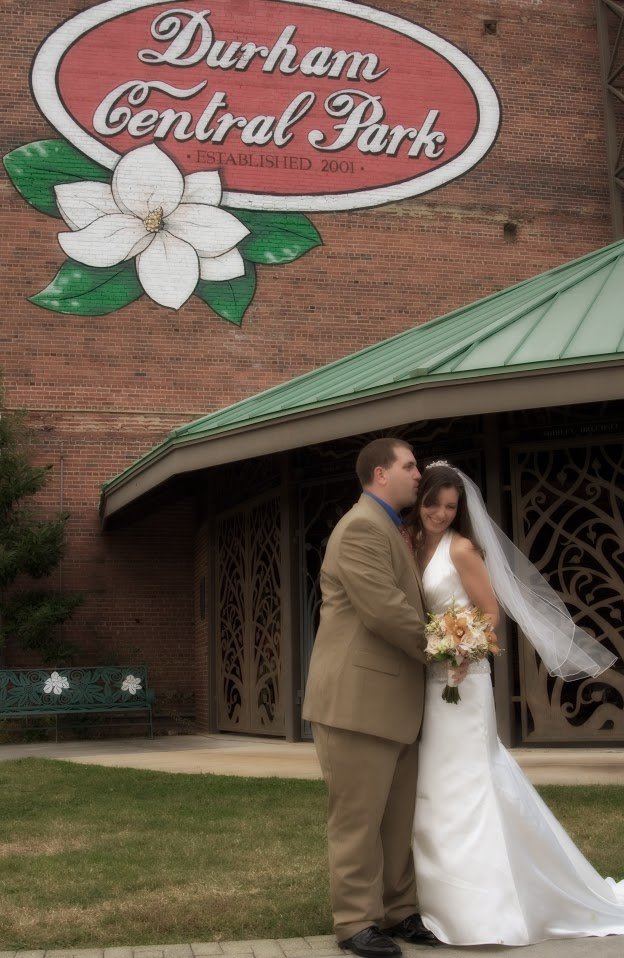 The name honors the memory of a dear friend of the Park who died in a tragic car accident.  Merrill Davis was the always-helpful guy from our neighborhood nursery and garden store, Stone Brothers and Byrd. Merrill was there seeding the first lawn at the Pavilion back when there were hardly any folks walking on it. His wedding in 2009 was one of the first weddings in the Pavilion.
Merrill was a tireless fundraiser for the Durham Exchange Club, whose focus is to benefit children in the Durham area. "Mount Merrill" is the perfect name for an attraction that will draw children and families from throughout the community.
Thank You
Mount Merrill was made possible because of the generous support of businesses and individuals in the community—including a successful Kickstarter campaign.
Special Thanks
Keith & Brenda Brodie
Measurement Inc.
The Exchange Club of Greater DurhamBIN Foundation
Acme Plumbing Co.
Larry & Lee Ann Tilley
Erwin Oil Company
Mark & Cynthia Kuhn
Stone Brothers & Byrd
Registered Creative
Independent Donors
Kathryn Meyers
Thomas & Margaret Q Keller
Christina & Jonathan Fish
Allen & Claire Wilcox
Deborah & James Dobbins
Mary Emory Luikart
Dave Austin & Pam George
Caelia & Andrew Bingham
Committee to Re-Elect Catotti
Tom & Michelle Dekker
Jody White
Barker & Cavett French
Carol Anderson
B. Ilene Nelson
Cynthia L. Shimer & Eric N. Wiebe
Katherine Skinner
Courtney & Michael James
Joanne Abel
Clay & Leigh Bordley
Ann & Lex Alexander
Libby & Dub Gulley
Michael A. Massey
Blossom Garden Club/Lynne Alexander
Ninna I. Burkill
Darcey D. Martin
George Merrill Davis
Lee Ann & Larry Tilley
James W. EdneyIII & Linda Logan
Julia Borbely-Brown
Alice Sharpe
Keith & Brenda Brodie
Ben & Joyce Weber
Henry Belo Shelton
Ron D. Sieber
Caroline Sasser & Louis L. Sasser Jr
Sharon K. Fowler
J. Stuart & GertrudeM. Smith
Dr. Helen Boussios
Scott & Carol Kennedy
Genesa Trogden
Ellen Dagenhart
Jack Braswell, Jr & Susan Dabbs
Exchange Club of Great Durham
Suzanne Wasiolek
Amy Stanfield
Sarah & Welford Artz
Barker & Cavett French
Wiliam & Jacquelyn Epperson
L. Huntley Braswell
Max & Jane Isley
Ken Richardson
Winston Weaver Co. Inc
Shanna Bierman
Dara Shain
Dennis Meek
Howard Claggion, Jr
Teri Epsten
Aaron Sebens
Merywen Wigley
MIchael Hanas & Susan Gouchoe
Paul Marsh & Jennifer Longee
Caelia & Andrew Bingham
Plantworks Nursery
Clara Murray
Thomas & Beverly Hawkins
Hyde Distributing Inc
Rhonda C. Swaringen
Stephen Barefoot
Amy Pine
Katherine Gill
Thomas & Margaret Keller
Rochelle Sparko
John Hite
Bonny Moellenbrock
Lori Hensley
Sarah Gauger
Drew & Erin Medlyn
Kelly Kovalesky
Nancy Herndon
Michael Bacon
Keith & Brenda Brodie
Sharyn Caudell, Gardener to Go
Howard & Margaret Eisenson
John Mays
Vera & Carl Whisenton
Emily & Archibald McClure
Caroline Sasser & Louis L. Sasser Jr
Janet M. Scovil
Sharon K. Fowler
Acme Plumbing
Frederick R. Umstead (Randy)
Elizabeth & James Winborne, Jr
Robert & Nancy Lockamy
Andy and Linda Haynes
Fowlers Nursery
Barbara Elliott
Leon & Areli Grodski de Barrera, Cocoa Cinnamon
James & Deborah Dobbins
Joseph & Linda Adkinson
JP Green Milling
Carlene Bryon
Ben & Joyce Weber & Tankersley Family
William & Ann Kirkland
Richard & Lonna Harkrader
JHJ Family Limited Partnership/Jack Markham, Sr
Mike O'Day
Ed Embree
Nancy Alyea Schiebel
Max Isley
Mark & Cindy Kuhn
Janet & Gerald Storms
Daylily Garden Club/Rhonda Pollard, President
Jennifer & Todd Owen
Mark E. Holt
Altered Image Hair Designers
John Horton
Susanne Meghdadpour
Durham Merchants Assoc. CHaritable Foundation
Margareta Claessen
Exchange Club of Greater Durham
J. Linn Mackey
Tracy Whitford
Sandra & Kenneth Lyles
Carolyn Kroll
Thomas Jones & Anna Vandis
Esther & Peter Bent
Ann D. Thornton
Catherine M. Shaffer
William Laurence Tilley Jr
Janet G. Celko
Polly E. Moore
Carol W. Anderson
Christine Miller Ramsey
Donna R. Elium
Eric Chetwood
Ronnie & Mary King
James & Renee Hill
Patricia Hoover
Jessica Brock,Longfellow Real Estate Partners, LLC
Page & Kathryn Wilson
Mike Bigsby & Ann Waring
Sean Felton, Durham Lions Club
Carol Ostrow
Karen & Robert (Skip) Anderson
Paul & Karen Stirrup
Blue Note Grill, Bill & Andrea Whittington
Kickstarter transfer
Vicky Patton & Bob Chapman
Yadkin Bank
Clarence & Vivian Lewis
Alexandros Washburn
Anne Williams & John Burness
Hank & Linda Scherich
Alliance Architecture
Barker & Cavett French
Max Isley
M. E. Mangum
Square 1 Bank, Douglas Bowers
PNC, Jenny Grant
Sarah Fuller
Elizabeth Johnson & Fabian Heitsch
Andy & Ginny Widmark
June Forsyth, Durham Council of Garden Clubs
Hank Scherich, Measurement Inc
Dan Erwin, Erwin Oil Company, Inc.
Kathy Carter & Fred Peterson
Croasdaile Garden Club, Karen Bordeaux
Wayne & Rhonda Lee
An Italian Feast to Warm the Heart before PayPal
anonymous
Hope Valley Garden Club, Missy McLeod
Irene Skowronek
BIN Foundation, Dr. Barbara Newborg
Julie White
William T. Coman, Jr
John B & Linda Dodd
Lucy Stokes
Leigh & Clay Bordley
Rhonda C. Swaringen
Daylily Garden Club/Rhonda Pollard, President
Meghan Weiseman
Twelve Labours Foundation Inc/ J. Alston Gardner
Sharon K. Fowler
Liberty Warehouse Apartments, LLC (East West)
RD Sieber
John L. Weinerth, MD
Kickstarter Backers
Neil Hoefs
Sierra Stults
Marsha Silver
Johnny
Helen Griffin
Egger Family
Shanon Schuster
Stephanie Wilson
Leslie Land
Boomer Jeff Bakalchuck
Kaitlin Strauss
Darice Witherspoon
Joel Lieberman
Mike Masinick
Katy Davis
Lalitree Darnielle
Vivian Bragg
Fergus & Jana Bradley
Tim Dodge
Holly Franklin
Josh Gredvig
Bo and Pat O'Reilly
Cris Rivera
Inga Pollmann
Lee Kornfeld
Ronnie Lilly
Emily Rhode and Brian Chapman
Wendy Tregay
Melissa Scales
Colleen May Fisher
Rachel Cohn
Matthew Etherington
Camilla Meek
Claire Long
Asher Rapkin
Megan Risley
Carrie & Dan Moore
Christina Hinkle
Samuel Montgomery-Blinn
Lauren Sacks
Andy & Annie Scott
Wendy Edds
Brian Hawkins
Tobin Freid
Anson Burtch
Chad Haefele
Meredith Pittman
The Moran Family
Chris Brown
Cedric Roberts
Becca Forrest
Rebecca Daniels
The Warner Family
Holly and Violet Baker
Arthur William Taub
Cocoa Cinnamon & bikeCOFFEE
Kendy Madden
Emily Friedman
Clare Barrington
Katie Spencer
Erica Rapport Gringle
Kara, Molly & Alix MacKillop
Tom Burns
Pamela Gray
Graham Marlette
Tracy Rupp
Ruby Sinreich
Claudia Fulshaw Design
Taylor Ellerbee
Kurt Volkan
Graham
Carol Thomson
Lizzie Gregory
Claudine Caro
Carolyn Dalby
Emily Carmody
Hettie Johnson
Adam Covati
Rachel Raney
Julie
tammy Dorfman
Yousuf Zafar
Greg Freeman
Erin & Ken Gasch
Elena Snavely
Fahsyrah's Lemonade (Sylvia & Fahim
Kimberly Swanson
Cicely Mitchell
Rebekah Miel
Aj
Schei Gill
Dump Pho King Truck
Lea Hart
Ann Woodward
michael muller
emily wexler
Dashiell Fowler
A Stronger Tomorrow: Brandi Almario
laura Lawton
Jason Dickson
Michele Eddy
Melanie Burke
Erin Kauffman
Rachel Mills
Aura LaBarre
Kristin Whetstone
Elizabeth Healey
Jennifer Longee
Sara Seten Berghausen
Joe Houde
Rachel McCurry
Emma Potenziani
Lew and Sally Wardell
Sam Miglarese
Erik
Anna Gassman-Pines & David Halpern
Melissa Watt
Sara Davis Lachenman
Alan Kleinman
Heidi Melz
martha scotford
Joshua Berman
J Cohen
Nancy Henderson-James
Marc Phillips
Renee Strnad & Scot Pressley
Annie Ambrose
Emma Allott
Diane Catotti
Claire Chehrazi
Treat Harvey & Regina deLacy
Chloe Seymore
Meg Gray Wiehe
Sophia Murray
Pat and Chrissy Scheper
Jim Haverkamp
Beer Durham
Carver C. Weaver
Joe Gonwa
Sheila O'Rourke
Quinn Williams
Elizabeth Strachan
Jamie Edmondson
Jessica Yinka Thomas
Julia Kulla-Mader
Keith Cassell
Chris Bozzelli
David E Haynes
Ashlee Wheeler Smart
Christian Del'Aune
Shannon Knott
Briana Brough
Jodi Koviach
onlyburger
Sarah Wolff
Erin and Greg Maruzzella
Diana Ip and Josh Seidenfeld
Scott Manuel
Sarah Meyer
David Rosenthal
Erika Perry
SarahCohen
carrie gonnella
Actual Size Builders, Inc.
Amalia and Gabriel Turner
Rob, Tiffany and Grey Taylor
Three Oaks Engineering
Heather Fayhee
Kristen Gerondelis
Blandy Costello
Sam Wolff
John DuVal
Tracy Ward
Heather Frederick
Matthew Clobridge
Elizabeth Pritchett
Jack Daly
Jon Gardiner
Morgan and Renee Haynes
Tierney Foster-Wittig
Tim Ross
Tara Avison & Josh Adell
Jodee Nimerichter
Kevin Harward
Shawn Karns
Sarah Fish
Kathy/Mark Straube
Jill Bashore
Ann Alexander
walt barron
Fuller Sasser
Ashley Nason in honor of John Council
Cheryl Mitchell-Olds
Max McNally
Jonathan "Darlos9D" Royal
Susan Ross and Tom Hadzor
Susan Gladin and Peter Kramer
C Kay Briggs
Matt Gladdek
Julieta Giner
James Hepler
Julia Borbely-Brown
Family Gross
The Schudel Family
Gloria A Evans
Kevin Lustig
Eric Mine
Shawn Sendlinger
Stead Willis
Laurence and Jessica Tilley
Natalie Spring
Amy Brown
Amy & Bill Jenniches
Lewis Bass
Marybeth Dugan and Kenny Dalsheimer
Courtney Davidson
Kaaren Johanson
Ellery Shimer Wiebe
Michael Milley
Donna Berkelhammer, Molly and Isaac Chmura
Sarah Musser
Susan B. Kilzer
Shannon and Andrew Nelsen
William Durham
Cheryl Schall
Natalie and Penn Broyhill
Martha Philpott King
Jeremy Goldstein
Boleyn Willis-Zeger
Mary Margaret Graham
Rainer Blaesius
Elisa Sharkey
Ingeborg De Kok
Rebecca Braswell
The Ardyson Family
Lindsey Kinnaird Scherich
Andrea, Banks, Miles, and Zella Dixon
Bryan Scherich
Nathan Scherich
Albert, Keyra,Anderson, Jade and AJ
Christine Tankersley
Jason Richmond
Registered Creative
Wendy & Jason Albano
Arash Chehrazi
Cyrus Dastur
Davis Family
Christina Makarushka
Sarah Goetz
Walker Robinson
Insurance People
Jay Shirley
Joanna Darby
Seth Gross
Pompieri Pizza
Charlotte Walton
Meytal Barak
Barbara & Peter Fish
Kona Ice Kabana
Chris Crochetiere
Old North Durham Neighborhood Assoc
Triangle Star Realty
Linda and David Orovitz
Michael D. Elder
Betsy Levitas
Steve Henry Herman
Anne and Paul Kinnaird
Janene Tompkins
Kathy Harrod
Alice Sharpe
amanda snyderman
Jim Van Verth
Deborah Dobbins
Kathryn Meyers
Deborah Lowenthal Sorin
Amanda Smith
Ronald W. Angerer & Tammy Wells-Angerer
Leann Nelson
Lucas, Crystal and Abram Weber
Sarah & Welsford Artz
elizabeth albright
Martha H Fisher
Acme Plumbing
Leo Meyers
Nicole A. Crawford
Blair Robinson
Urban Durham Realty
Durham Distillery
Tim Hock Properties
Ms. Tamela Davis
Sheldon Galloway
Nick MacLeod
Parker and Otis
Shelley McPhatter
Chris Heavener
Debbie Harrod Parrish
The Parlour
Valerie Ward